Aa Strand Camping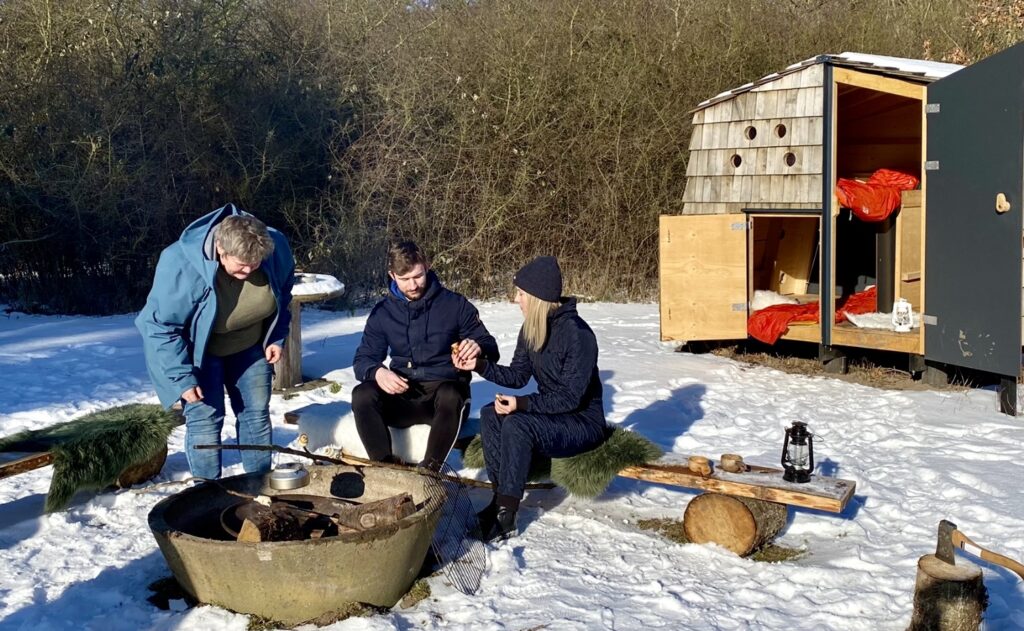 Here you can stay the night at new modernized shelters. We are working together with Blå Støtte punkter, who has a shelter concept with shelters all around Fyn.
The shelters are placed away from the others inside Aa Strand Camping. There are two shelters of the type called 'Stenbider'.
The campsite is placed around lovely nature with both sea and forest as its neighbors. At the site it is quite and there is place for immersion. Nevertheless, there are also a lot of choices for active lifestyle.
There is a campfire site next to the shelters. There is no wood for bonfire, so you have to bring some yourself if you want to make a bonfire.
When it is season for the camping site to be open, then it is also possible to buy icecream and beverages in the reception. You are also allowed to use the toilets on the campsite. If you want a shower then you have to use 2 danish crowns for the automatic.
Jens and Anette are the owners of Aa Strand Camping.
Address: Å Strandvej 61, 5631 Ebberup
Google Maps coordinates: 6X9G+8F Ebberup (Put into Google Maps or Google)
Transport: The car can be parked on the parking space on the other side of the camping site (6X8F+PP Ebberup) approximately 250 meters from the shelters.
Quantity of shelters: 2 'stenbidere' with space for 5 persons in each.
Is it possible to book online? Yes, and it cost 30 danish crowns per person per night. You can check if the shelters are already booked if you press "Book denne shelter" at the bottom of this page, and afterwards press continue. After that the booking calendar will appear. When you have made your booking you will receive a receipt, which you have to show if being asked for.
Toilet? Yes, on the camp site. Note: they are only open when it is the season for camping.
Water? Yes, when it is season for camping.
Shower? Yes, when it is season for camping. You need to use 2 danish crowns for the automatic.
Bonfire? Yes, on the allowed area. It is not allowed to take woods from the trees and bushes.
Possibilities to but wood? No, if you want to make a bonfire then bring your own wood. Alternatively you can buy some wood in the reception.
Are dogs allowed? Yes, but on a leash.
Tent: It is not allowed to put up a tent.
Groceries: The camping site's reception has ice cream and beverages. The closest groceries store is 4 km away from the campsite (6XRJ+QG Ebberup).
Show respect for other people.
Keep your dog on a leash
Clean up after yourself and take your trash with you when you leave the shelters.
00 at latest, you should be quite.
Remember to close all doors and windows when you leave the shelters.
Owner and contact:
Aa Strand Camping  Aa Strandvej 61, 5631 Ebberup
Phone number: +45 61 12 78 28 – Mail:  info@aa-strand.dk – website: www.aa-strand.dk