GLAVENDRUPLUNDEN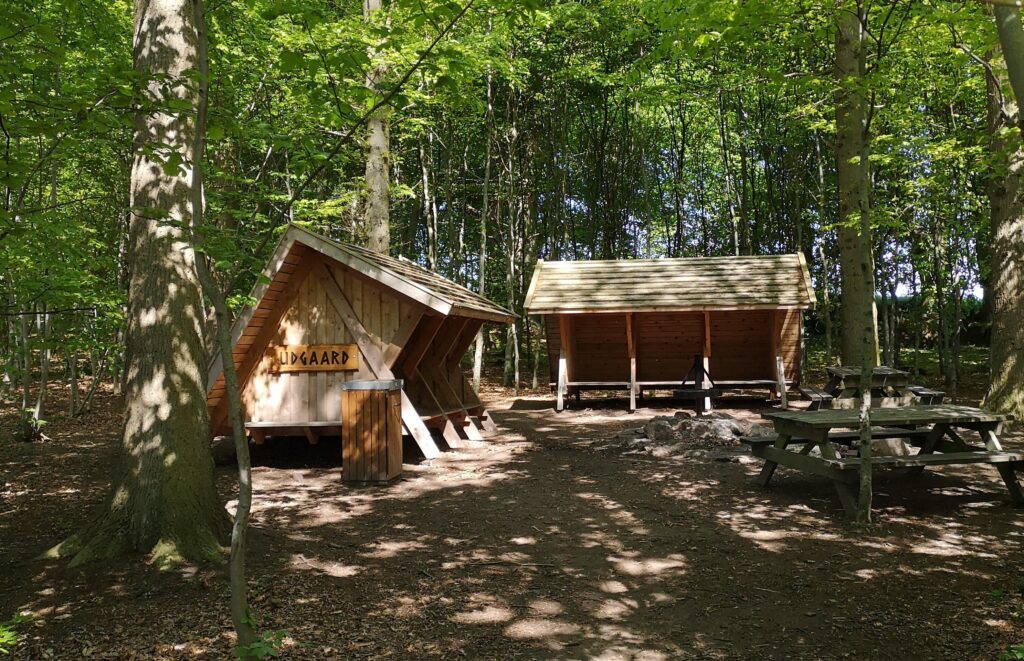 The shelter site is located in Glavendruplunden, 2 kilometers from the village of Skamby, and 4 kilometers from the town of Søndersø. The site has 2 shelters with space for 4 (5) people in each. There are 100 meters to the toilet and water is available in the immediate vicinity (only available during the summer). Water is available at the cottage and there are 100 meters to the toilet, (water and toilet, is only available during the summer) Firewood and small necessities can be purchased in Fjeldgaard Shop (see www.fjeldgaardshop.dk), Pedersmindevej 40, 5485 Skamby. Nearest shopping is in, Søndersø.
In Glavendruplunden there are two Bronze Age burial mounds (Flinthøj and Rævehøj) and several different memorial stones, as well as one of Denmark's most beautiful ship shaped stone settings from the Viking Age, with the Glavendrup stone standing at the west end. The Glavendrup stone has Denmark's longest runic inscription of 210 runes and is definitely worth a visit.
In Glavendruplunden there is also a larger cottage with tables, benches and fireplace for barbecue located right next to the shelter site.
In the local area there is also the large burial mound Torshøj and the beautiful Dallund Castle by Dallund lake. From Glavendruplunden there is a route passing many different sights and historic places – the trip is approx. 20 km. Follow the small signs showing a black flower.
In Glavendruplunden, an annual Viking market is also held with many exciting stalls and workshops. The market is held the first weekend in September.
Number of shelters: 2
Total number of beds: 8 – (10)
Drinking water: There is a small shelter with water and drains close to the shelter site,
Toilet: Yes (sewered). 100 m.    (The toilet is open during the period from and including week 13 and up to and including week 42).
Campfire site: Yes. The campfire site has a grill.
Firewood must be brought. It is allowed to collect fallen branches in the forest, but the trees must not be felled.
Tents: No.
We are looking forward to seeing you
Skamby og Omegns Borgerforening