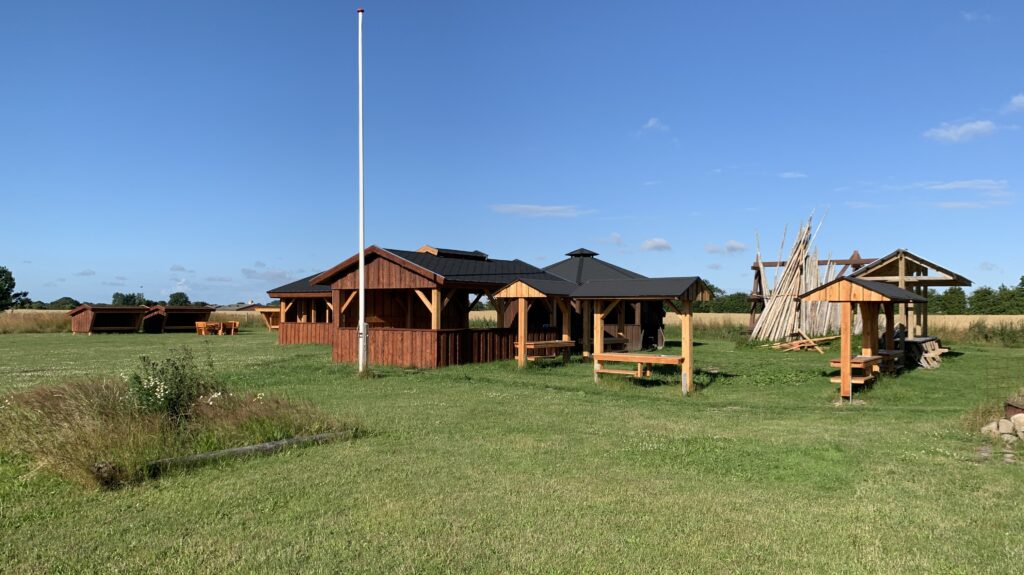 Welcome to the Blue Scouts' outdoor oasis in Otterup, at the North of the island Funen
Otterup's Outdoor Oasis is a beautiful area behind the house, where the Blue Scouts from the "1st Otterup Group" are located. In the oasis there is lots of opportunities to have a nice outdoor experience – everyone is welcome, families with children, friends, scouts, cyclists, hikers, nature geeks and the curious ones 😊.
The area is located in the outskirts of the city, surrounded by green areas and private houses. You will find plenty of green areas in the oasis – and the ceiling is high.
Otterup's Outdoor Oasis consists of different parts, here is some information about each part:
A large campfire hut with benches and with a shelter with room for 4-5 people – here you can relax by the fire and in the shelter, and it never rains in the campfire hut.
A hammock hotel with room for 12 people. Have you ever tried to get your night's sleep in a hammock? Now you have the chance. There are benches around the edge on which you can place your luggage. You must bring your own hammocks; you can hang them in the hooks in the hotel.
4 shelters with grass on the roof with room for 3-4 people in each. Dimensions: 2.2 m x 3 m. There is a table and bench set for sharing in the middle of the shelter area.
NOTE. When you want to book a shelter or space for your hammock, please first select in the menu on the left and then go down to the bottom of the green button, "book that shelter", even if it is a hammock.
5 outdoor kitchens (covered table with sink) where you can prepare your food. It is entirely up to you whether you just prepare a few snacks or whether you make the large campfire menu on the campfire site. You must bring all the equipment, such as cutting boards, knives, pots and pans etc., by yourself.
A covered picnic house, i.e. a covered house with 4 tables-benches-sets. Here you enjoy your food or a cup of coffee, and here is always dry weather.
Number of shelters: 5
Total number of beds: 25 (approx.) + 12 in hammock hotel
Toilet: Yes mold toilet. Access is given via code lock when you rent. You must bring your own toilet paper and alcohol-based hand sanitizers.
Drinking water: Water can be drained.
Waste: We kindly ask you to take your waste with you.
Campfire site: Yes with large outside space.
Firewood: can be bought at the OK-Plus petrol station in Otterup, Søndergade 30, Otterup approx. 1.5 km from the outdoor oasis.
Water: We have an outdoor faucet, and we can offer to open it if desired, so you can refill water in some cans, please bring them by with you.
Dogs, horses and other domestic animals: Not allowed
Tents: Tents are not allowed.
Parking: It is possible to park in the car park in front of the scout house, but it is not possible to drive to the oasis itself. It's about 100 m to the shelters.
Video surveillance: There is video surveillance on site.
The lease period starts at 14h00 and ends at 14h00.
Otterup is located 14 km north of Odense, and there are plenty of opportunities for good experiences in the area. The scenic seaweed Enebærodde is definitely worth a visit, we also have Denmark's only potato museum, there are lovely sandy beaches approx. 6 kms distance and many good shops in the city.
If you want to rent the entire oasis, contact us via kontakt@bookenshelter.dk.
Please always bring your receipt for booking and payment so that you can show it on demand.
We are looking forward to seeing you.
1st Otterup group
————–