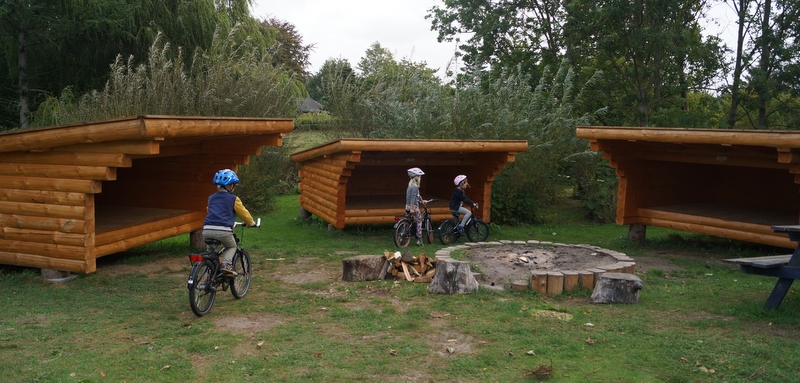 These 3 fine shelters were built in 2016 with a grant from a Danish NGO, The Outdoor Council. They stand on the edge of the school's playground and are thus an integrated part of the school's outdoor area. While they have a view to the playground, their location is still fairly secluded, encircled as they are by a small fenced pond, a stream, and hedgerows.
The shelters are the obvious choice to stay for people hiking or cycling in the Mid-Funen area or for families who're looking to spend some quality time together. Here's a nice little playground, you can follow trailfinding points, right behind the shelters is the stream where you can try to catch small animals and much more.
There's access to toilets in connection with the school's gym hall and you can borrow campfire cooking equipment.
We would like to open up for a wider use of this area and in return we expect  our guests to take well care of the site, treat the area with respect, and show consideration for the site's neighbours by keeping the noise level down.
On schooldays, a booking is from 4 p.m. to 9 a.m. in deference to normal school hours and guests can expect to be woken by a troop of delightful and curious children.
In school holidays and on weekends, a booking is from 12 a.m. to 12 a.m.
We think it would be ever so nice to have you visit us if you're a school class, a kindergarten or the like. The site can easily hold up to 22 children and a couple of teachers. Contact us directly if you're a large group and plan a visit here.
We're wishing you a lovely time here at Ryslinge Friskole.
Questions? Contact us at: kontoret@ryslingefriskole.dk