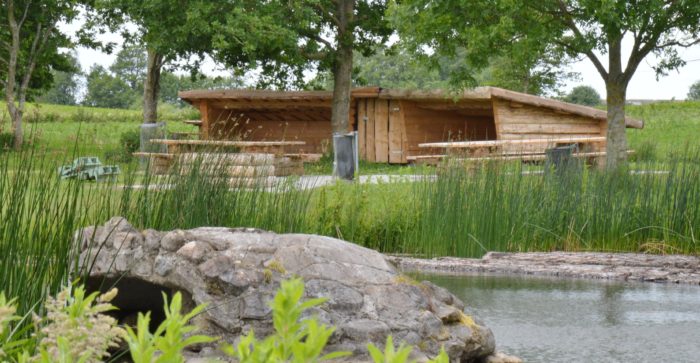 THE POND – VESTER HÆSINGE
Dedicated villagers have created this peaceful oasis in the middle of their friendly  village Vester Hæsinge. The small pond is surrounded by lilacs, other shrubs, and trees and next to it you'll find a platform with a table and benches. A raft is also available.
The villagers have also built 2 shelters and a campfire hut. There are several tables and bench sets in the area as well as a large bonfire site which can be used for cooking.
Number of shelters: 2 +
Sleeps: In total 12.  3-4 in the smaller shelter
Toilets can be found in the chapel which is located in the cemetery at Vester Hæsinge church on Birkevej (distance approx. 400 m)
Drinking water: A tap is right behind the shelters
Campfire site: 2 campfire sites. Possibility to pre-order and purchase firewood via mobile pay 83599. Order by email: christenseninge@mail.dk or by phone / sms 51 23 24 59Price: DKK 30 for 1/10 stere firewood.
Dogs: Yes, but must be kept on a leash
Power: There is an electrical outlet in the fire hut for charging mobile phones etc.
Should you need technical equipment or tools to do a little exploring of pond and surroundings, this can be borrowed – see notice in the hut.
Parking : You can park at the former shop " Brugsen" – now " VH Pizza", Birkevej 57, Vester Hæsinge, 5672 Broby. Drive down to the wooden bridge that leads to the shelter and hut.
There are no restrictions on fishing in the pond and everyone is welcome to try their luck. However, you must have a state fishing license which can be bought for a day, a week or longer, if you are over 18 and younger than 67 years old. You can then fish in fierce competition with the grey heron that visits the pond once or twice on most days.
We look forward to seeing you in our community. You can read more about our village, activities and shopping opportunities in the tabs on the left.
Development Committee for Vester Hæsinge and the surrounding area.