☀️ Enjoy an active vacation in Naturlandet! ☀️
Are you one of the many shelter guests that arrive by car?
Read more here and get inspired to enjoy an active vacation in nature! Regardless of whether you enjoy bicycling, water sports, hiking or riding on horseback, we've got lots of suggestions for routes and amusements you can enjoy, and of course lots of tips & tricks to help you get started.
We have two beautiful nature parks we think everyone should visit!
The Maribo Lakes and Nakskov Fjord Nature Parks. The former is particularly enjoyable for people who enjoy water sports or bicycling, whereas the latter is well-known for its hikes, though it also offers great bicycle routes and water sport opportunities. Riding on horseback is also an option; for example you can bring along your horse when spending the night at Bursø Hestehave – right in the middle of the Maribo Lakes Nature Park.
Do you lack the equipment to enjoy an active vacation?
Rent a bicycle here: Gedser Cykeludlejning, Kragenæs Lystcamping, Albuen Camping and Larsson Cykler, the last one has many locations across Lolland-Falster, so there is always one near you!
Rent a kayak here: Gedser Naturcenter, Bangs Have at the Maribo Lakes, Maribo Sø Camping, Kragenæs Lystcamping and Albuen Camping. Hasselø Kajak near Nykøbing Falster offers kayaking courses and guided tours – and we have a shelter and tent site right there if you want to stay the night.
Are you ready? Then download the app Naturlandet Lolland-Falster and get started!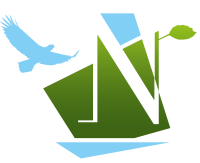 The app has route suggestions for bicycling, hiking, riding on horseback and rowing in canoe or kayak, as well as suggestions for attractions you can enjoy along the way. The routes are easy to follow in the app, and you can use the filters to see different facilities, such as accommodation, restaurants, attractions and much more. Click here for a video introduction to the app: Watch video.