Bavnehøj Fritidsområde
In the spacious old gravel pit near Nørre Vedby you'll find two lovely shelters within the bustling recreational area. Nature is busy reclaiming the area, and you'll find beautiful flora and varied bird life there. Locals use the area for activities such as dog training, Scouting and bird watching. There is a TREC-field for horses, and the big shelter has a horse enclosure directly by it, so that horses can comfortably spend the night together with their humans. Bavnehøj Fritidsområde is an important pitstop for many of the big recreational routes, such as the national cycle route 7 and our big Naturlandet Rundt adventure route.
'
The nearby town called Nørre Alslev has several grocery stores, pizza shops, a pharmacy and a swimming pool. The station has trains towards Copenhagen, Nykøbing, Rødbyhavn and Nakskov, as well as busses going to local villages and towns. Nørre Alslev is located 3 km from Bavnehøj Fritidsområde.
Number of shelters: 2
Persons per shelter: 3-5
Tent site: No, it is not permitted to camp in tent in the area. 
Prices: 40 DKK per person in shelter. 
Drinking water: Yes, there is a water tap at the southern entrance near the parking area.
Toilet: Yes, there are primitive toilets respectively 50 and 100 meters from the shelters. . 
Campfire site: Yes, both shelters have their own, but you need to bring your own firewood. 
Caretaker: See email receipt.

Parking: You can park at the southern entrance next to Baunehøjen 19, or alternatively, at one of the parking lots around the old gravel pit. 
Note: The shelter named Cykelshelter is the small one with space for 3 persons; it is located about 1 km from the parking lot. The shelter named Rideshelter is the big one with space for 5 persons; it is located about 350 meters from the southern entrance, or 400 meters from the big parking lot. There is a trail going all the way around the old gravel bit, and despite being a bit uneven in places, it is suitable for both hiking, bicycling and horseback riding.
Would you like to sleep in a shelter? Go to the booking site by clicking on one of these 2 links: The Cykelshelter Bavnehøj or the Rideshelter Bavnehøj.
See the map below for an overview of the area and its facilities in Danish. If you want to see the rest of the facilities, then you can download our app Naturlandet Lolland-Falster and see the full map with all facilities translated into English and German.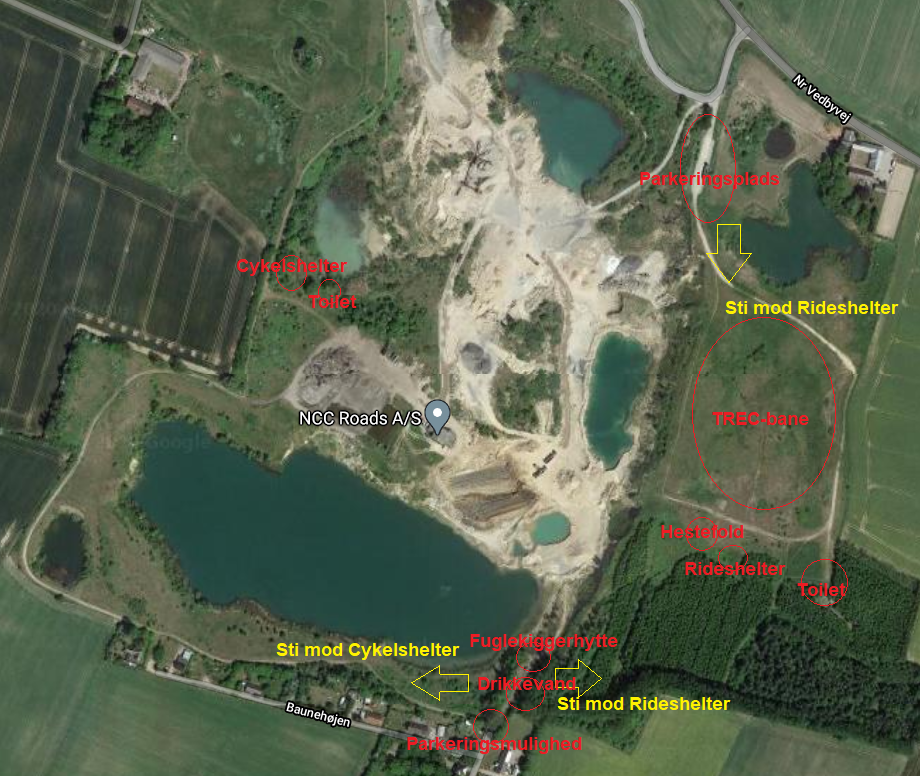 If everything is fully booked at Bavnehøj Fritidsområde, then we recommend trying one of the following shelters: Vålse Vig, Vester Kippinge, Ovstrup Spejdercenter eller Sortsø Fritidshavn. Alternatively there are two B&Bs: Huges Bed & Breakfast and Kærholt Bed & Breakfast.
Click here to read the shelter and tent site rules or click here to read the FAQ if you have general questions about the website and booking.