Mindeparken Rødby
Close to Rødby on Lolland you will find this nice shelter site surrounded by trees and grassy areas. The site consists of 2 spacious shelters, each with its own fire pit, and there is a comfortable toilet and outdoor water tap available. The memorial park is dedicated to commemorating the draining and drying up of the old Rødby Fjord, and has the appearance of a cozy and sober recreational area with a barbecue area and a sheltered picnic area.

Grocery shopping is possible 10 km east or west of the shelter site, in Rødby and Dannemare respectively. From Mindeparken it is only 4 km to Kramnitze, where there is a pizza shop and tourist activities during the summer season. In Hummingen, which is 2 km east of Kramnitze, there are several restaurants and mini golf.
Number of shelters: 2
Persons per shelter: 5

Tent site: No, setting up your tent is not permitted.
Prices: 45 DKK per person in shelter. 
Drinking water: Yes, but note that the outdoor water tap is off during periods with frost.
Toilet: Yes, there is a nice toilet with clean water.
Campfire site: Yes, each shelter has its own. There's also a barbeque area nearby.
Information: Read more about the Mindeparken here. 
Caretaker: See email receipt.
Services: Contact the caretaker after booking if you'd like to buy firewood.

Parking: There is a small parking lot, access from the road Langelinie.
Would you like to sleep in shelter? Then book by clicking here: The "Strandskaden" shelter or the "Viben" shelter.
The map below has an overview of the facilities in Danish: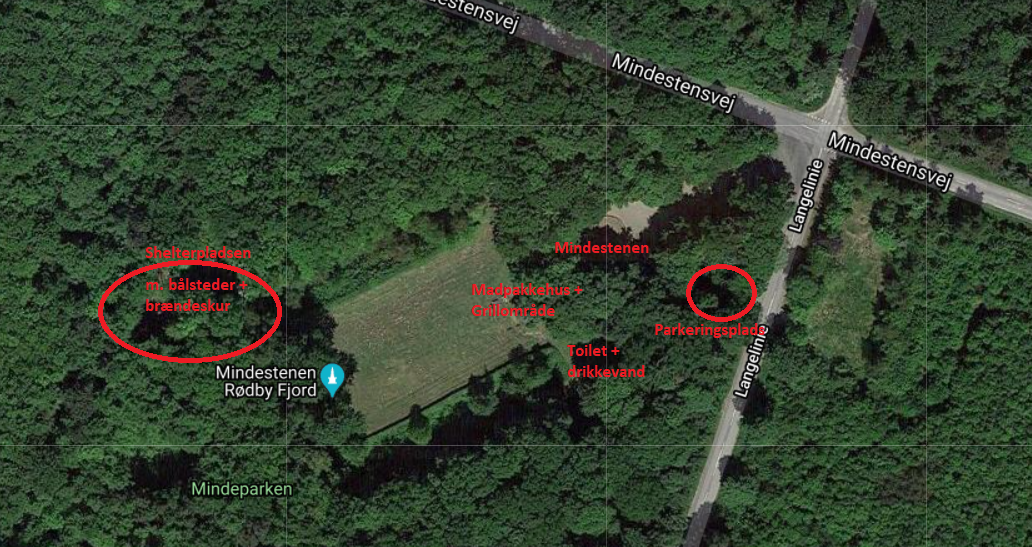 If everything is fully booked at Mindeparken Rødby, then we recommend the shelter and tent sites at Kramnitze Havn, Hummingen or Hirbosøerne. South by Hummingen you'll also find several commerical accommodations, such as Den Gamle Digegaard and Hummingen Camping.
Click here to read the shelter and tent site rules or click here to read the FAQ if you have general questions about the website and booking.