Mysseskoven's shelter site
This nice shelter site is located in the middle of the a cozy little forest at the edge of Nykøbing Falster, next to the sweet heart-shaped lake. There are large exercising and playground facilities, a nice handicap toilet, lunch house and nature room directly adjacent to the site, as well as several campfire sites to choose from. In other words, you can get the best of both worlds at this shelter site, where you can enjoy the tranquility of the forest and the beautiful Guldborg Sund strait close by, while you get all the benefits of the city. The shelter site is part of our large adventure route, Naturlandet Rundt.
Even though the shelter site feels nicely isolated in the forest, it is very close to the heart of the city. The local Netto is located about 800 meters from the shelters, together with a pharmacy. Thus you're able to restock on mosquito spray, orange juice or whatever you need.
Mysseskoven is a collaborative project made by landowner Thomas Højgaard, Guldborgsund Municipality and local citizens. Amongst other things, Ældre Sagen has helped with the establishment of the exercising facilities, while Lindeskovskolen's students have invented the lake's heart shape and established the campfire sites. Read more about the project on Guldborgsund's website.
Number of shelters: 1. Bemærk: Der er 2 sheltere, men kun den ene kan bookes; den anden står til fri afbenyttelse. 
Persons per shelter: 5 
Tent site: No, try Hasselø Natursti or Falster City Camping.
Prices: 30 DKK per person in shelter.
Drinking water: Yes, by the school.
Toilet: Yes, there is a nice handicap-friendly toilet by the site.
Campfire site: Yes, with benches. 
Information: Check Nature Area Guldborgsund's Facebookpage to stay updated.

Wi-Fi: No.
Caretaker: See email receipt.

Parking: Please use the school's parking lot, entry from the road Egevænget. 
Would you like to sleep in this shelter? Click by booking here: The "Hjertesøen" shelter.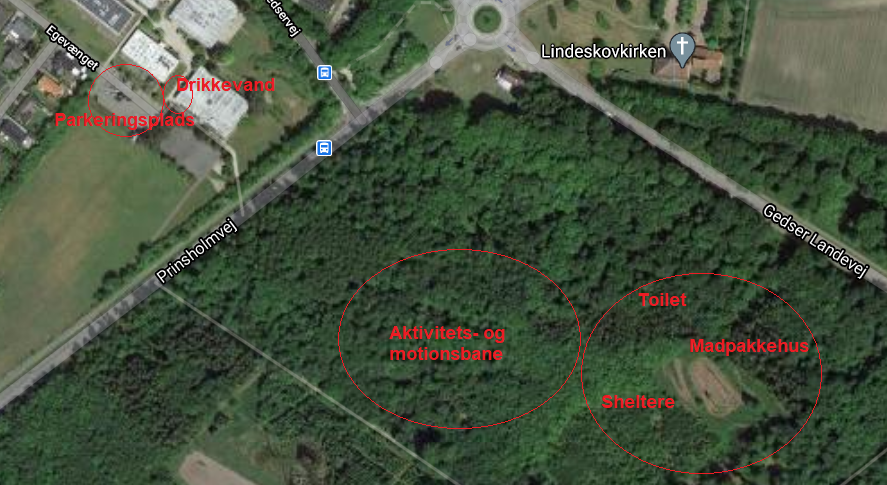 If everything is fully booked at Mysseskoven's shelter site, then we recommend one of these alternative accommodation options: Hasselø Natursti. Hasselø Bed & Breakfast, Vesterskov Bed & Breakfast, Hotel Falster or Falster City Camping.
Click here to read the shelter and tent site rules or click here to read the FAQ if you have general questions about the website and booking.