This shelter site offers firewood service, click here to read more. 
Vestenskov shelter and tent site
Close to the Nakskov Fjord Nature Park you will find the cozy little village called Vestenskov, which has its own grocery store and a bustling local community. The shelter and tent site is located by the village's old school, which has now been transformed into a lovely recreational area with a soccer field and playground. The town is known as the "hydrogen village" as it was part of an attempt to store solar energy via hydrogen. The site is close to the disused hydrogen house, where you can read more on the information board.
The local grocery store is just 150 metres from the shelter site and is open every day of the week. Public transport is available directly from the school, where there are buses towards Nakskov and Langø.
Number of shelters: 2
Persons per shelter: 4
Tent site: Yes, please book in the menu. 
Prices: 25 DKK per person i tent, 35 DKK per person in shelter.
Toilet: Yes, inside the old school.
Drinking water: Yes, available at the school's toilet.
Campfire site: No, coming soon.
Information: Read more about the town on their website.
Caretaker: See email receipt.

Parking: There is a parking lot directly by the shelters.
Read other guests' reviews of Vestenskov shelter and tent site in the guest book.
Would you like to sleep in a shelter? Book by clicking here: The "Brintfyret" Shelter or here: The "Solcellen" Shelter.
Would you like to sleep in a tent? Then click here and book your tent site.
See the map below for an overview of the area in Danish.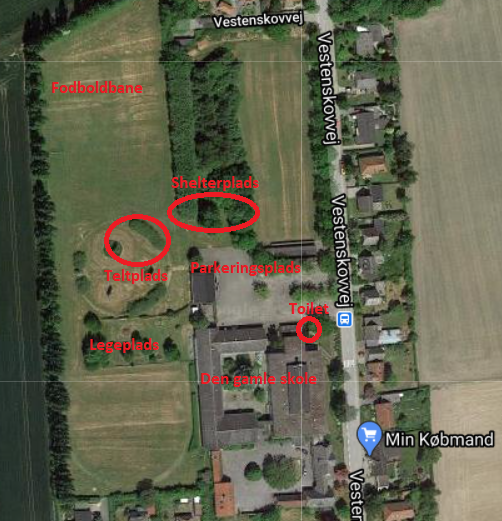 If everything is fully booked at Hunseby Shelterplads, then we recommend the shelters at Næsby Strand or Langø Cykelcamping, alternatively there are commercial camp grounds at Albuen and Hestehoved.
Click here to read the shelter and tent site rules or click here to read the FAQ if you have general questions about the website and booking.