Spejdervænget shelter site
Close to Maribo you'll find this lovely shelter site with an incredible location surrounded by nature. Directly next to the site you'll see meadows, small lakes and forests for you to explore. From the shelter, there is a nice view across the lakes, and you'll often be able to spot birds there. The shelter site at Spejdervænget is run by the Maribo scouts, and their club house is directly next to the site.
Most of the time, you'll get to enjoy a quiet stay in the shelter, but of course the local scouts will be using the area now and then; in particular on Wednesdays outside the vacation season. Read more about the local scouts in Maribo.
The closest grocery store is about 900 meters away from the shelter site, and a few hundred meters further away, you'll find a wide range of restaurants at the centre of Maribo. If you're using public transportation, then there's only 1,5 km to the Maribo train and bus station, where you can catch frequent trains towards Nykøbing Falster and Nakskov, and a wide range of bus lines.
Number of shelters: 1
Persons per shelter: 5 — Note: Max 2 nights. 
Tent site: No, we recommend Maribo Sø Camping if you want to sleep in tent. 
Drinking water: Yes, there is an outdoors water tap at the club house. 
Toilet: In the club house, see email receipt for more info. 
Campfire site: Yes, there is a campfire site with benches. Bring your own firewood. 
Wi-Fi: No. 
Caretaker: See email receipt.
Services: You should expect to be self-sufficient here.
Parking: There is a spacious parking lot available.
Would you like to sleep in a shelter? Book by clicking here: The "Mejsen" shelter.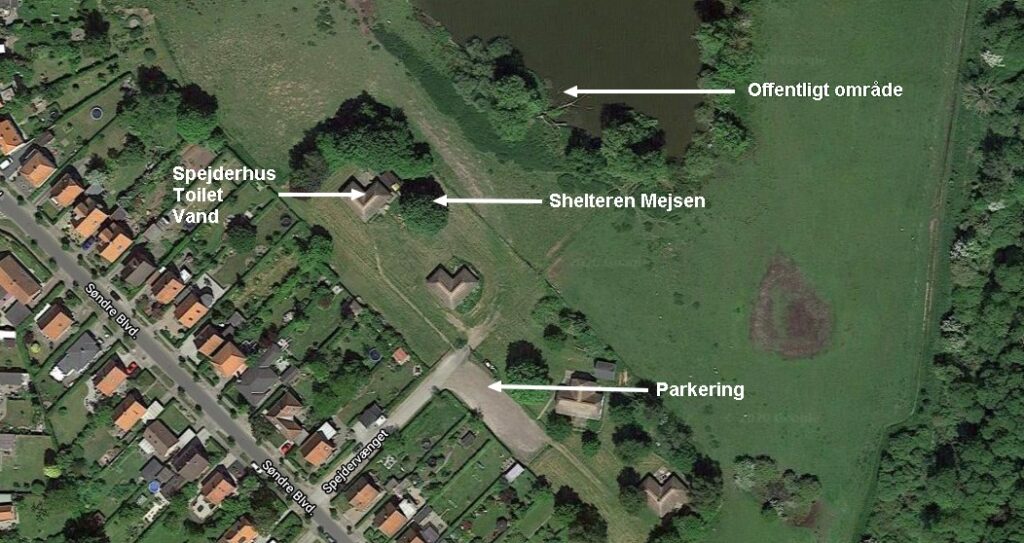 If everything is fully booked at Spejdervænget, then we recommend trying one of the nearby shelter site, for example Bursø Grusgrav. Aside from that there is a nearby hostel, Danhostel Maribo and the monastary guest house Sankt Birgitta.
Click here to read the shelter and tent site rules or click here to read the FAQ if you have general questions about the website and booking.