This site offers mattress rental as an additional service, as well as sale of firewood.

Vålse Vig
Behind the dam at Vålse Vig you will find this idyllic shelter and tent site. Wake up to refreshing birdsong and the sight of deer grazing in the fields outside. The site consists of a spacious shelter and a small tent site. It is located in the corner of a spacious private garden, just a 500 metres walk from the harbour, where there is a year-round toilet with drinking water.

If you need to buy groceries, there are petrol stations at Gåbense and Øster Kippinge, 5.4 and 5.6 km from the site respectively. In Nørre Alslev, which is just under 8 km from Vålse Vig, there are opportunities for larger purchases, as well as train and bus connections to Nykøbing Falster and Copenhagen.
Note: It is not permitted to walk across the fields, please follow the path along the lawn, and then the road when you go to the harbour.
Number of shelters: 2
Persons per shelter: 5
Prices: 40 DKK per person in shelter or tent.
Tent site: Yes, please book in the menu.
Toilet: Yes, the harbour's toilet is available. It is located 500 meters from the shelter.
Drinking water: Yes, at the harbour's toilet.
Campfire site: Yes, with grill rack.
Wi-Fi: No.
Services: Some equipment is available to use at the site.
Caretaker: See email receipt.
Parking: If you are arriving by car, then please park at the harbour.
Read what others think about Vålse Vig shelter and tent site in the guest book.
Would you like to sleep in a shelter? Then book by clicking here: The "Vig-go" Shelter.
Would you like to sleep in a tent? Then click here. and book your tent site.
If everything is fully booked at Vålse Vig, then we recommend the shelters at Vester Kippinge, Bavnehøj Fritidsområde or Sortsø Fritidshavn.
See an overview of the area on the map below.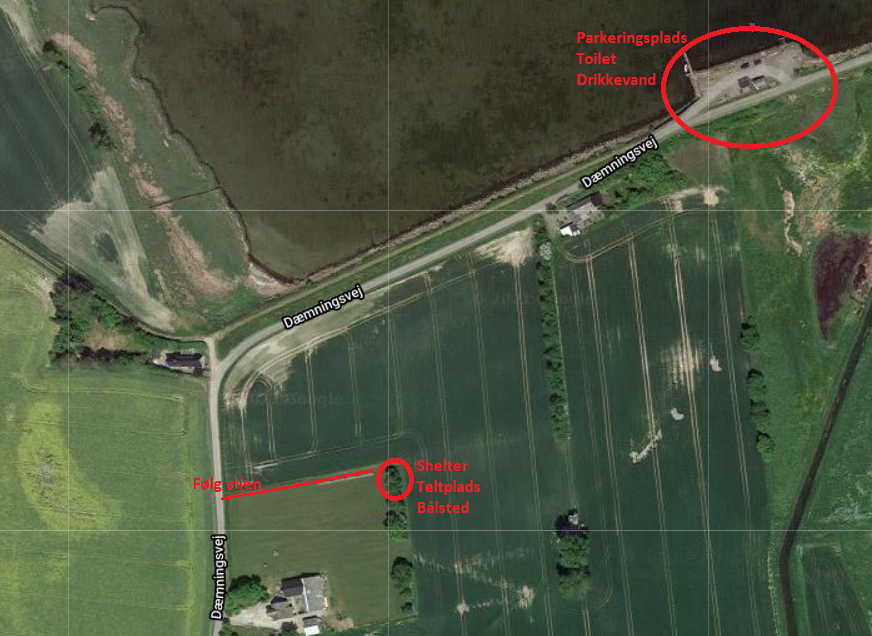 Click here to read the shelter and tent site rules or click here to read the FAQ if you have general questions about the website and booking.