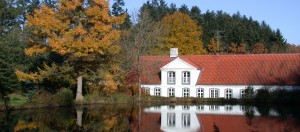 There are three different shelters in the forest at Trente Mill. They all have an area for a campfire and when staying the night, you can use some of the facilities in Trente Mill. There is a public lavatory, where you can get water and do your dishes, and last but not least, you can combine your stay with a visit to our activity centre "KISS THE FROG" ("Kys Frøen"). 10 different activities are just waiting for you to try them. Perhaps you'll feel like catching a fish for supper in one of our mill ponds, go on a bug hunt or find inspiration on how to incorporate seasonal wild plants into your meal.
If you are a large group, the three shelters are fairly close together and within easy reach. One of our ideas has been to have entire school classes, groups of scouts etc. stay here under safe conditions in which a teacher/group leader can still have things in hand. But at the same time, we also think that it is important to have the experiences and closeness that a smaller group can offer. All in all,  we think that there's more peace and quiet in having smaller groups as opposed to everyone staying in the same shelter. And we have plenty of testimony to how it feels to listen to all the night sounds, how cosy it is to sit quietly together around the campfire, and making a batch of pancakes.
If you are a class/group and need all shelters, please contact us via e-mail so that we can make sure that they're available and no one else books them. If you want to pay the bill in a different manner, e.g. electronically, please email us so that we can book the shelters for you and send an invoice to your accountant.
We are looking forward to seeing you!
Trente Mill